Posted by Sharon Commerford on 6th Oct 2020
Well here it is almost the holiday season of the most bizarre year most of us have ever seen. The pandemic, quarantines, mandatory closures, very little sports, no movies, TV shows unable to film the upcoming season, the list goes on and on. So many small businesses had to close their doors and I want to let you know that we truly appreciate the fact that so many of you have kept us going.
We have actually seen an uptick in the online sales. If you can't be there in person then sending a personalized gift is the next best thing. We have been shipping lots and lots of stuffed animals, security blankets, kid's backpacks, tumblers, wine cups and face masks. Most of the tumblers and wine cups have been with photos provided by the you. It makes it a fun and thoughtful gift.
So the holiday season is going to look a bit different this year and you may be looking to send more personalized items to those you cannot see in person. We are here for you. And we have 12 new security blankets and a couple new stuffed animals coming in the next 3 to 4 weeks. Then we may even have a few more new items before the end of November. We'll do our best to give you a fantastic selection of personalized gifts.
Another fun item we have is our holiday hoodie. Get it with our original "Elves Rock" design or a design for this year..."2020 is Elfed Up". Or if you have an idea for a design let me know and I will see if I can bring it to life.
And speaking of the holidays...we did some embroidery for the big man himself. We jazzed up his jacket and the magic bag he uses for gifts. The magic bag refused to be photographed but here's a pic of the jacket.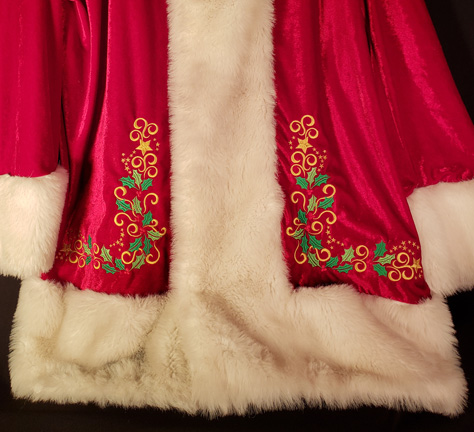 Finally, I won't get political here but what-ever side of the fence you are on you should go vote. Exercise your right as an American and vote.